Meauro APT02
Meauro APT02 Outdoor Projector is REALLY HOT! The first batch is sold out!! We accept PRE-ORDER Now! The pre-order price is $249.99 per unit. The second batch will come by the end of June 2021. View more

pre-order policy

.
Meauro projector with built-in battery is the best portable LCD projector for traveling, small enough to take with you in your bag. Thanks to rechargeable 8GB internal storage, you can enjoy up to 6000-lumen, images up to  200″ stunning detailed 1080P entertainment in the outdoors even without an Internet connection.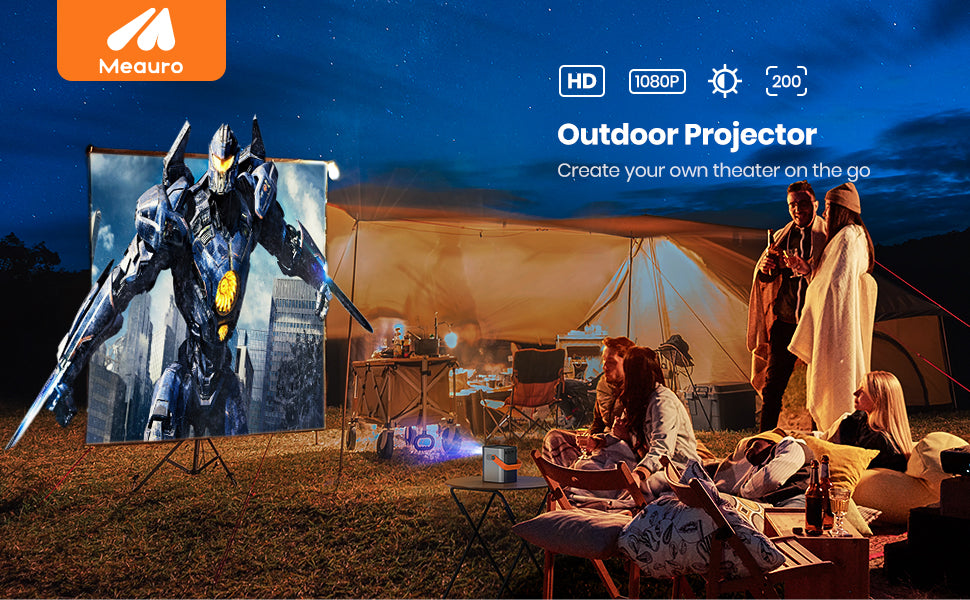 Features:
1. Big Entertainment for Outdoors

Surprisingly compact and portable to bring cinematic projection to any space. Enjoy 1080P HD or 4K movies at their highest level of detail for breathtaking video clarity.
2. Fully-enclosed Design

Thanks to a fully enclosed design and cooling system, it can prevent dust damage and deliver great picture quality and stability even after years of use.
3. Auto Keystone Correction

With 45° of automatic vertical correction, the portable projector offers you a stunning vertical image on almost any surface.
4. Small Enough to Take Anywhere

Mini portable design, a leather strap, rechargeable battery, and 8GB-storage for an outdoor movie even without a wireless connection.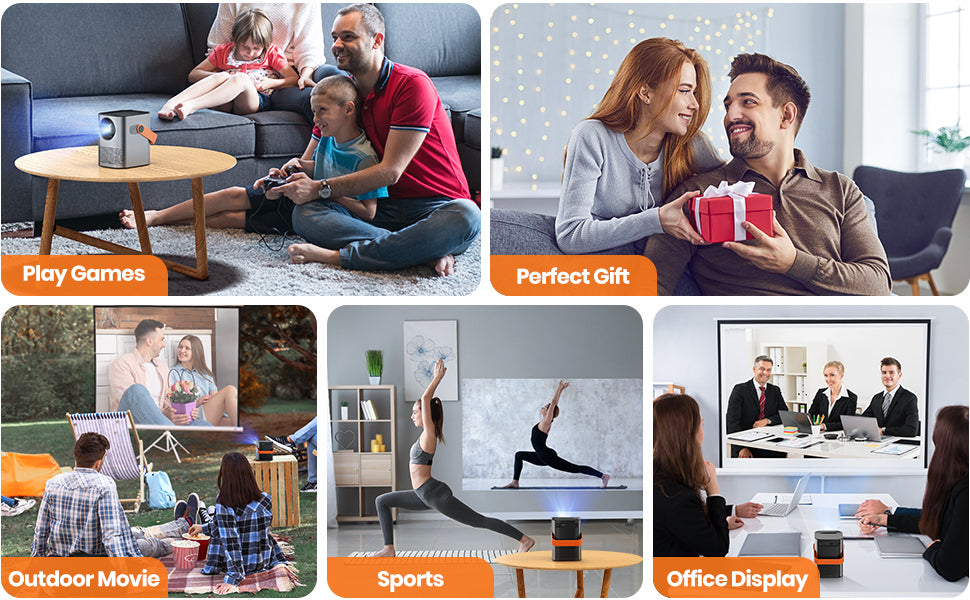 Specifications:
Projection technology: LCD
Resolution: 1920*1080 (16:9, HD), compatible 4K image
Brightness: 6000 lumen
Contrast: 5000:1
Keystone correction: automatic ±45° vertical correction
Projection size: 35-200 in
Dustproof: fully-enclosed structure design
Internal storage: 8GB
Operating system: Android 6.0
Battery capacity: 3200mAh
Dimension: 4.25*2.75*4.84 in
Language: English/French/Dutch/Spanish
Connectivity: HDMI, USB, Bluetooth, Wi-Fi & Screen Mirroring
Package Included:
1x Meauro APT02 mini projector ( Built-in Battery)
1x Power cable
1x Remote Control 

( Battery not included)

1x User Manual
FAQ

1.The power indicator doesn't light up.
-- The power plug is not properly inserted. Please insert the power plug into an electrical outlet properly.

2.Failed to turn on the projector by pressing the On/Off button on the remote controller.
-- Check if the remote controller has run out of battery. If so, please replace it with 2xAAA batteries.

3.The projected image is not clear.
-- Please turn the focus wheel to a proper position to achieve the clearest focusing effect.
https://www.amazon.com/dp/B0922NL2XQ
Meauro-Projector-User-Manual-English@https://cdn.shopifycdn.net/s/files/1/0557/0576/4009/files/meauro-projector-user-manual-english.pdf?v=1621494146
Meauro-Projector-User-Manual-France@https://cdn.shopifycdn.net/s/files/1/0557/0576/4009/files/meauro-projector-user-manual-france.pdf?v=1621494146
Meauro-Projector-User-Manual-Spanish@https://cdn.shopifycdn.net/s/files/1/0557/0576/4009/files/meauro-projector-user-manual-spanish.pdf?v=1621494146
Meauro-Projector-User-Manual-German@https://cdn.shopifycdn.net/s/files/1/0557/0576/4009/files/meauro-projector-user-manual-german.pdf?v=1621494146
Meauro-Projector-User-Manual-Italian@https://cdn.shopifycdn.net/s/files/1/0557/0576/4009/files/meauro-projector-user-manual-italian.pdf?v=1621494146
Meauro-Projector-User-Manual-Japanese@https://cdn.shopifycdn.net/s/files/1/0557/0576/4009/files/meauro-projector-user-manual-japanese.pdf?v=1621494146
Meauro-Projector-EShare-User-Guide@https://cdn.shopifycdn.net/s/files/1/0557/0576/4009/files/Meauro-Projector-EShare-User-Guide-V3-TV.pdf?v=1621822916